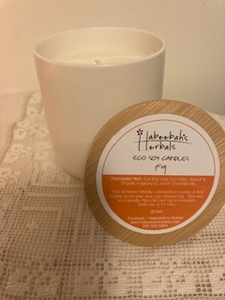 Adriatic Fig - Adriatic Fig has a combination of sweet and earthy scent. 
Details - *ECO & human-friendly, natural, clean-burning & long-lasting, in ceramic jars with wooden lids. Ceramic Jars are re-usable and re-cyclable. Choose White, Pink or Grey jar.

Ingredients We Love - ECO Vegan & Kosher Soy wax, ECO wick, Natural & Organic Fragrances, and/or Essential Oils
How To Use - Trim wick occasionally.  Place lid over top to extinguish.
7.5 oz ceramic jar. Shelf life 8-12 months.
Note *If adverse reaction, discontinue.