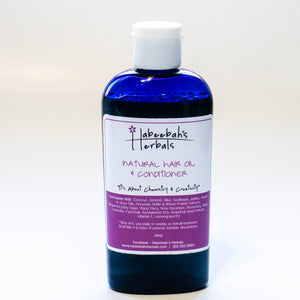 Natural Hair Oil & Conditioner

Details

 Habeebah's Herbals Natural Hair Oil is very rich with 100% all-natural ingredients.

Ingredients We Love

Formulated with Coconut, Olive, Almond, Sunflower, Jojoba, Argan & Shea Oils, Rosemary, Nettle and Horsetail Extracts, Clary Sage, Ylang Ylang, Sage, Lavender, Patchouli, Rose Geranium and Sandalwood Essential Oils, Bergamot & Tea Tree Oils, Grapefruit Seed Extract, Vitamin E, Lemongrass EO, and Dried Herbs.

How to Use:
This hair oil is very rich. Be liberal with oil but a little does go a long way!
Use daily as a hair conditioner and/or weekly as a hot oil treatment.
Shelf life 4-6 months. Size 4oz.
note:*If adverse reaction, discontinue.