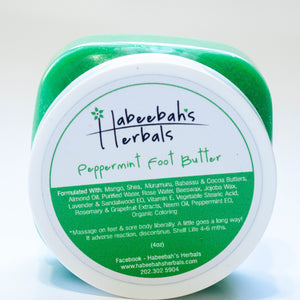 All-Natural Peppermint Foot Butter

All-natural peppermint foot butter has the same wonderful ingredients as our body butter.
Peppermint is very fresh and uplifting. It reduces headaches, relieves sore muscles, helps to clear the respiratory tract, and boosts your energy.

Details

They are rich with antioxidants that naturally heal and moisturize, soften and condition dry, itchy, and inflamed skin.
The Peppermint Butter has natural antioxidant, anti-fungal, anti-inflammatory & antibacterial properties. They are highly penetrating, restoring elasticity, and serving as a protection against the sun. 

Ingredients We Love

Formulated With Mango, Shea, Murumuru, Babassu, and Cocoa. They also include softening and conditioning Almond Oil rich in essential fatty acids and Vitamins A, B1, B2, B6 & E.
Additional ingredients include Purified Water, Rose Water, Beeswax, Lavender & Sandalwood Essential Oils, Vitamin E, Vegetable Stearic Acid, Rosemary & Grapefruit Extracts, Neem Oil, and Natural Preservatives. Japanese Peppermint Essential Oil, and Natural Coloring.

How to Use:

A little goes a long way, also wonderful on hair.

Shelf life 4-6 months. Size 4oz.
note:*If adverse reaction, discontinue.