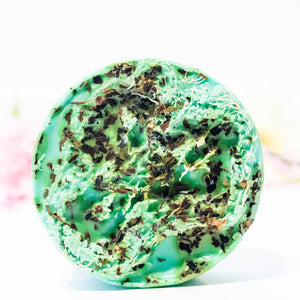 Peppermint Loofah Soap
Details

Loofah Soap is made from Sustainable Goats Milk & Castile Soap and Sustainable Fair Traded & Natural Mayan Loofah with extra exfoliations of plant powders, herbs, and flowers.

Ingredients We Love
Formulated with Goats Milk & Castile Soaps, Peppermint Leaves, Olive Seed & Spinach Powders, Peppermint Essential Oil, and Natural Coloring.
How to Use:

To obtain clean creamy skin, wet the loofah soap and scrub on rough areas of elbows, knees, feet, and all over the body for extra exfoliation of dead skin and smoothness.

note:*If adverse reaction, discontinue.