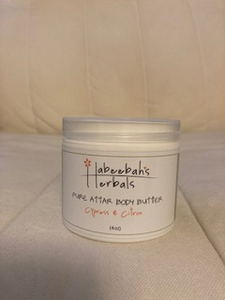 Cypress-Citron Body Butter
Natural Cypress is slightly woodsy and is great for sore muscles.  Citron is from the original citrus plant. Together they are uplifting and cleansing.
Details - Our natural butters are made with some the richest and most emollient butters of Mango, Shea, Murumuru, Babassu and Cocoa. Each butter is rich with antioxidants that naturally heal and moisture, soften and condition dry, itchy, and inflamed skin.
Our butters have natural antioxidants, antifungal, anti-inflammatory & antibacterial properties.  They are highly penetrating, restoring elasticity, and serving as a protection against the sun. They also include softening & conditioning Almond Oil, rich in essential fatty acids and Vitamins A, B1, B2, B6, and E.
Ingredients We Love  - Mango, Shea, Murumuru, Babassu & Cocoa Butters, Purified Water, Rose Water, Beeswax, Rosemary & Grapefruit Extracts, Neem Oil, Vitamin E, Lavender & Sandalwood Essential Oils, Vegetable Stearic Acid, Natural Preservatives, and Natural or Organic Perfume Oils or Essential Oils.

How To Use - Apply to body or hair,  A little goes a looong way!  Shelf live 4-6 months. Size 4 ounces.
Note * If adverse reaction, discontinue.